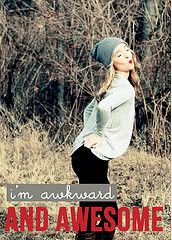 I'm jumping on the "awkward & awesome" bandwagon each and every thursday from now on brought to you originally by sydney over at the daybrook. Ready for my very first installment?
Awkward:
– the length of my "bangs". . . lets be honest. this whole "pregnancy" thing has got my hair growing at super-human speeds. i kinda can't keep up anymore, so i'm starting that awfully awkward 'growing my bangs out, so yes i must always travel with a bobby pin' stage. hopefully it wont last long?
– the sweet, sweet next door neighbor saying "still feelin' sick in the mornings, eh?". . . why yes sir, yes i am. i apologize if you can hear me while you enjoy your morning coffee. This morning sickness stage is lasting an awfully long time.
– not getting anything for "bosses appreciation day". . . after i repediately told tucker it was approaching.
– my clothes. they range from tight and short to big and baggy. awkward stage of pregnancy? check!
Awesome:
– goldenspoon toppings. homegirl at our local goldenspoon gives the most massive heaping of toppings i have ever experienced. and i love her for it.
– baby kicks. or flutters? i can officially feel the babe moving around in there.and move around babe does. . .
– leggings. i got not one but TWO pairs in the mail yesterday. farewell real pants, i'll see you in april (if you're lucky).
– dreams about hilary duff and i becoming besties. i cant tell you where this came from, but i woke up believing that hil duff and i were inseparable bff's. I'd even become a Penguins fan for her.
– finding out babe's gender. TODAY. at 11am. That's most definitely awesome.