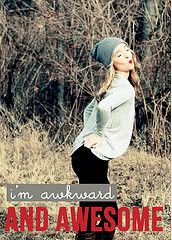 Once again today I'm joining forces with Sydney over at The Daybook Blog to bring you awkward and awesome thursdays. . . just to prove that yes, its possible to be both awkward AND awesome.
Awkward:
– Wearing my rain boots. Constantly. And if you think it's raining here in So Cal you'd be wrong. They just happen to look amazing with my outfit choices these days.
– Almost peeing my pants in pilates. For reals. I swear this child is jumping on my bladder or something.
– Tucker's hair cut. STILL. It's growing back, and he's at least soft now. But he has this top knot that makes him look way too much like the doodle he is.
– Those pesky "read receipts" on the new iMessage. Apparently everyone can tell when you've read and ignored their message.  My "feature" was turned on, so to those of you who I ignored. . i apologize.
Awesome:
– My friends. For reals. Let me just say that Alexandria is really racking up the thank  you cards. Her little hands are going to be SO cramped once she sits down and writes them all out.
– Being allowed to finally purchase baby things. Girl baby things.
– Being half-way through the marathon they call pregnancy. Yes siree ladies and gents, we're just about half-way through. So I mean its a good thing as soon as the cloth diapers arrived yesterday I sat down with a trusty you-tube video and practiced. A few more months of that and i'll be a cloth diapering queen.
– Root-beer. my savior in life.