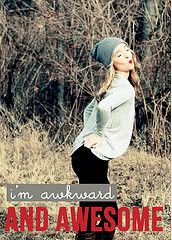 Yup, its thursday. I love thursdays. . . they're so close to being friday's, and always a good sign the weekend is right around the corner! I'm teaming up with Sydney (adorable new mommy!) for her awkward & awesomeness.
awkward:
– wearing boots to the airport, only to have to take them off to go through security. I'm one of those people who uses their entire bodies, laying down, to get their boots off. and rolling around in the middle of the security line? yup, that's awkward.
– packing for a 4 day trip in a massive suitcase, and completely filling that suitcase.
– painting my belly like a giant pumpkin and scaring all the trick or treaters (ok, that may not have happened, but painted bellies are always awkward).
awesome:
– my husband. for doing a sprint – triathlon this weekend. He's hard-core fo' sure.
– getting on a plane. as we speak. and going to the great cold state of Michigan to visit a bestie.
– FINALLY getting to wear all my winter-wear!
– setting up Mammoth trips with awesome friends. Mammoth=awesome in my book (especially when i don't have to partake in the shoveling at ALL this winter. oh, the joys of pregnancy).
Happy Thursday!!