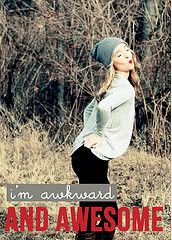 It's thursday! Which is one teeny tiny day away from friday. . . ready for this week's installment of awkward & awesome (brought to you originally by syndey over at the daybook).
awkward:
– my work-out clothes. They keep getting shorter and shorter. I blame the belly getting bigger and bigger.
– going to a high school pep rally last night. . . when i clearly don't know anyone attending the school (but seeing heather's teams perform, that was pretty awesome).
awesome:
– restoration hardware baby & child's customer service. They are officially amazing, and aim to please (even when delivering a side table instead of a dresser topper).
– all the adorable baby clothes i've been picking up for lexi.  And the hanging and putting in her closet- why? because the floors are done, the room is painted- we're getting ready for the little babe!
– my mom's birthday this year. Its 11-11-11.  How awesome is that?!
– setting up craft dates with good friends this weekend. Sparkley pumpkins here we come!