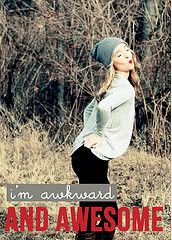 Today I'm linking up with Sydney over at the Daybook to bring you awkward & awesome thursday!
Awkward:
– Going to mammoth and NOT being able to ski. Ok, this isn't "awkward" as much as it's just plain sad for me.
– My new love affair with my Sorel boots. I understand I live in southern california, but i still plan on rockin' these ALL WINTER LONG.
– My old baby clothes. My mom brought over all my old baby clothes she saved this week. And I'm embarrassed to admit i was dressed in the creepy purple hammer pants with carrots on them (and suspenders). Parents can be so cruel.
– My lack of posting. I shall try to be better.
Awesome:
– My new favorite blog.It's sure to put a smile on your face day in and day out. A huge shout out to Leslie for always finding all things amazing.
– Adding the worlds largest gummy bear to my christmas list.
– Spending thanksgiving with amazing friends & then spending it again with amazing family. Two turkey dinners, sign me up EVERY YEAR.
– Pumpkin pie with unicorns on it.
– The fact that pottery barn has a stocking with a golden-doodle on it. You know Tucker has one on the way with his name on it.