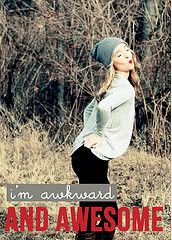 It's thursday!!! (nope, not friday– no matter how many times i asked mike last night if it could be friday) and i'm hooking up with Sydney from the Daybook to bring you all the awesomeness & awkwardness from the week!
Awkward:
– throwing up every morning for 26 weeks and counting. Not really awkward, more super duper annoying. BUT an old wives tale says that the more morning sickness you have, the more hair your baby's going to have. Which means she'll totally come out sporting mikes luscious justin bieber locks (yup, this just turned into an awesome).
– Reading Hunger Games THREE times. and loving it more and more every time. Anyone want to babysit a 3day old when the movie comes out this march?
– Glucose tests. that involve THREE needles in  a two hour time span. Not my favorite pregnancy experience to date.
Awesome:
– Nursery furniture that arrives monday. Yes, THIS monday lexi's room will be filled with all things baby-girl.
– Christmas gifts. Mine are done, wrapped, and under everyone trees. Now i get to focus on extreme amounts of baking.
– Mammoth this weekend. with amazing friends (and amazing adult supervision. yup- my dad's tagging along with the "youngins"). I cant WAIT to be in the snowy winter wonderland with the Higgins and the Jones.
– Our Christmas tree. I'm seriously considering leaving it up year round. . . the room is going to feel so empty once he's gone!