yup. its officially thursday. and ive been BAD at posting about being awkward & awesome (But dont worry, ive still been both awkward & awesome in the past few weeks). I'm trying to get back on the blogging train (woo woo), so i'm linking up with sydney over at the daybook to bring you awkwardness & awesomeness on this very fine thursday. I apologize in advance for this being all about pregnancy. . . but its kinda taking over my life right now.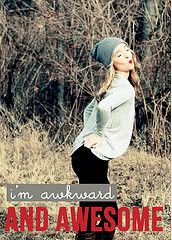 awkward:
– putting a waterproof mattress pad on the bed. . ya know. just in case my water breaks. who wants to live with THAT smell/memory on their mattress?
– only being allowed to take 10 minute walks. its impossible to get ANYWHERE in 10 minutes (and tucker isnt a fan either).
– birthing classes. and the videos that go along with them. especially when the couple giving birth looks like molly ringwald and kfed.
– can i just say "being pregnant". from the waddling, to the giant bump, to the growing a CHILD inside of you. the whole thing = awkward. (buuuut i guess the outcome is awesome).
awesome:
– new jeans. its no longer torture for me to put on "real" clothes. and i'm pretty sure my leggings are thanking me for giving them a break.
– birthdays. and friends & family who make birthdays extra special.
– being less than 8 weeks away from meeting lexasarus (yes, she already has dinosaur nicknames. which is another awesome).
– jenny mccarthy and her books. ive been losing my sense of humor about this whole "pregnancy" thing (its been replaced by sheer terror), and her books about pregnancy and newborns literally are making me laugh (OUT LOUD). i love her for getting me back on track attitude wise.