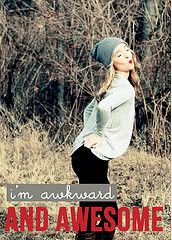 Its thursday!! and Ive been beyond awkward & awesome this week. . . foooor example:
awkward:
– bending over to pick things up. it aint pretty, TRUST ME.
– my toe-nails. They're chipping and look seriously awkward, but i cant reach them anymore (this WILL be fixed soon with a much needed pedicure!).
– my face. yes the pregnancy weight has crept up and made its way into my face! i knew it was bound to happen, but why o why couldnt it have waited until AFTER this weekends shower? at least my wedding ring still fits (score one for me!).
awesome:
– my fabulous friends are throwing me a baby shower this weekend. and i. cant. wait. seriously, the fun begins with julie flying in tonight, sara flying in friday, and my sister joining us for the fun saturday.
– the shower, its being held at my HOUSE. how awesome is that? i dont even have to leave! and the gifts come, and then they stay here. Its genius. Plus im pretty sure it'll give me a chance to show off the nursery and elicit "oohs" and "ahhs" from all the attendants. it also involves copious amounts of desserts and a candy bar. major awesome there.
– valentines day this year was filled with LOTS of sweet treats. chocolate souffle, heart shaped brownies, and heart shaped cookies made this fat-faced-pregnant girl VERY happy.
– my husband. He's been filling the nights lately with back-rubs, and sweet words. I would be a major wreck without that man right now (its only fair. after all he DID THIS TO ME).